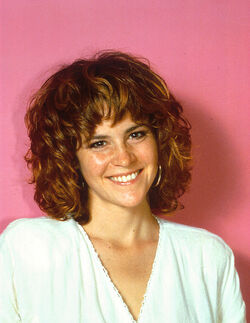 Alexandra Elizabeth "Ally" Sheedy (born June 13, 1962) is an American film and stage actress, as well as the author of two books.
Following her film debut in 1983's Bad Boys she became known as one of the Brat Pack group of actors in the films. She has appeared in:
St. Elmo's Fire.
WarGames
Short Circuit
High Art, for which she received critical acclaim.
She is best know to this wiki for staring in WarGames, alongside Matthew Broderick, as Jennifer Mack.
External Links
[
]